What is an angular contact bearing?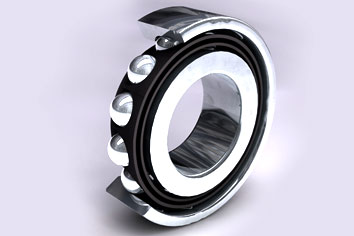 Angular Contact Ball Bearings work well in demanding applications such as pumps, compressors and machine tool spindles - often running at high speeds and under poor lubrication and contaminated conditions.
When buying Angular Contact Bearings it's important to consider cage material, preload and clearance. With universally matched bearings the predetermined preload or clearance is automatically achieved when mounted.
Single Row Angular Contact Ball Bearings, commonly used in pairs - either back-to-back, face-to-face, or tandem arrangement – or a combination of bearing sets.
Double Row Angular Contact Bearings, correspond in design to two single row angular contact ball bearings working in a back-to-back arrangement. They are suitable for combined axial loads where axial space is limited.
Four Point Contact Bearings, are designed to handle axial load in both directions.
Features & Benefits of Angular Contact Bearings
High axial load carrying capacity in one direction
Radial load carrying capacity
High speed capacity
Low maintenance
Low heat generation
Quiet running
Applications
The following are an example of applications where angular contact bearings are used:
Industrial Segments
Pumps
Fans
Compressors
Turbines
Gearboxes
Windmills
Related articles