ACORN becomes wrapped up with Gates in new belt partnership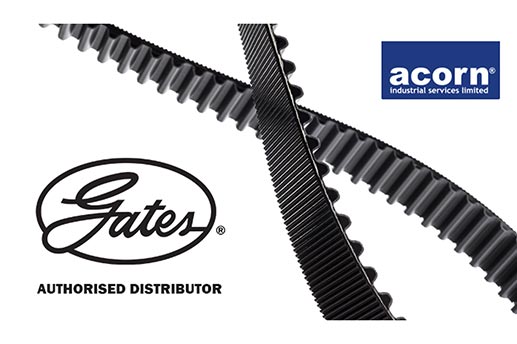 Acorn Industrial Services Ltd is proud to announce a new partnership with world-class power transmission giant, Gates. ACORN® will distribute Gates' premium quality range of power transmission products, including the best-selling POLY CHAIN® high-performance timing belt.
Founded in 1911 as a small, family-owned business, Gates has over a century of expertise when it comes to power transmission products. Not long after making its debut, Gates invented the pioneering v-belt, revolutionising the power transmission industry.
Fast forward to today and Gates has over 15,000 employees in over 120 locations across the globe. Gates' premium quality products can be found in almost every industry and every country. This new partnership with ACORN means that Gates' power transmission products will now be more accessible than ever.
Paul Speight, ACORN's power transmission product manager, commented: "We are delighted to be further expanding our power transmission portfolio through our new partnership with Gates. Their unwavering commitment to manufacturing quality products compliments our ethos to deliver an unrivalled service to our customers."
Gates' pioneering approach to manufacturing and product innovation has led to the development of the world-renowned POLY CHAIN® synchronous belt – a direct replacement for chain drives. This advanced belt helps to reduce maintenance requirements whilst standing up to water, chemicals and extreme temperatures.
Acorn Industrial Services Ltd is perfectly placed to distribute Gates' impressive product range thanks to its national network of regional distribution centres, along with its expertise in international logistics. With almost 40 years of experience in the supply of bearings, linear motion systems and power transmission products, ACORN is ideally positioned to assist customers across every industry with their application requirements.
For more information about ACORN's new partnership with Gates, or to find out more about how Gates products could benefit your business, contact your local knowledgeable sales team today.
---
Acorn Industrial Services Ltd is part of Axel Johnson International, a global industrial group of more than 120 companies in 28 countries. Axel Johnson International drives business development and growth through a long-term approach to ownership in strategically selected niche markets, primarily technical components and solutions for industrial processes. Axel Johnson International is organised in six business groups: Fluid Handling Solutions, Industrial Solutions, Lifting Solutions, Power Transmission Solutions, Transport Solutions and Driveline Solutions. Axel Johnson International is part of the Swedish family-owned corporate group Axel Johnson.