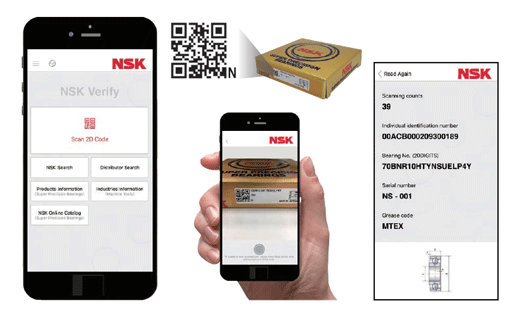 Counterfeit products have cost the global economy over $4.2 trillion, with 39% of all fake products posing a danger to lives. With these statistics, it's easy to see why it's so important to ensure your products are genuine.
It's the age old saying, penny wise and pound foolish – low prices for luxury brands might seem attractive, but the reality is it'll end up costing your machine in the long run. When you expect the quality that comes with buying branded bearings such as NSK, the unplanned downtime due to bearing failure caused by the counterfeits can be catastrophic.
This is why brands like NSK are taking measures to prevent the distribution of these counterfeits and have seized and destroyed over 23,000 boxes and cartons. The same investigation also lead to the seizure of another 90,000 boxes from the same offender. To help customers identify potential fakes and to ensure what they're buying is genuine, NSK have created a 'verify' app. NSK bearings purchased can be scanned using the app which will tell you if your bearing is genuine. When first launched the app was designed for NSK's Super Precision bearings but has now been updated to include general, giant and extra-giant bearings for industrial applications. The app also allows users to access key bearing data online at any time, helping to aid the identification of these harmful fakes.
The NSK Verify app is available on the AppStore and Google Play.