One simple secret for boosting your uptime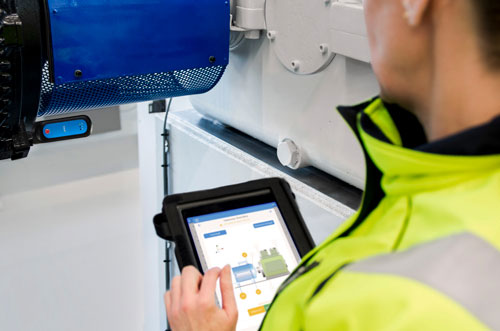 Productivity is key, no matter which industry you're operating in. It's no secret that the more efficient and productive you are, the higher your profits. But there's one main enemy of productivity that everyone is looking to avoid: downtime.
Let's face it – no business has got time for downtime. No matter how much planned maintenance you schedule, there's always that one little thing that just has to go wrong and your whole plant grinds to a halt.
If only there were a way to accurately predict when something was about to go wrong, so you could proactively schedule its repair.
Predict bearing failure before it happens
We've got the answer. And it's not half as complicated or as costly as you might think.
Condition monitoring systems are able to tap into the condition of your critical machine components, giving you an insight into their health status. Not only will condition monitoring equipment let you know whether your bearings or other components are about to fail, but you can also use them to plan out your maintenance schedules.
You can choose from portable monitoring equipment which you use to manually check the status of your components, or fixed systems which are able to continuously monitor the health of your machinery.
Some of the more sophisticated setups can even send you alerts if they notice an issue with your machinery, saving you time and effort.
But what do condition monitoring systems actually monitor?
Whatever you want to monitor, there's probably a condition monitoring system available that can do it.
The capabilities of condition monitoring equipment are vast and the type you'll choose will depend on what you need to measure. Basic monitoring capabilities of condition monitoring systems include measuring vibration, temperature, speed and torque. However, more in-depth functionality such as thermal imaging, stethoscopes and electrical discharge detectors are also available.
Basic condition monitoring equipment will simply give you a reading whilst the wireless condition monitoring systems will gather key data, looking at trends and deviances from the norm to build up an accurate picture of machine health.
This type of machine intelligence helps you to accurately plan your maintenance proactively, reducing unplanned downtime. It can also prolong machine uptime and minimise repair and maintenance costs.
How do you know which condition monitoring system is right for your machinery?
There's lots of different condition monitoring systems and equipment on the market and it's important to choose the right one for your application and your operating environment.
At ACORN, we supply a vast range of condition monitoring equipment. Including SKF, NSK and Timken, with options available to suit every application and industry.
When you first look at the range of condition monitoring equipment on offer, it may feel overwhelming. There's so much choice and you don't want to get it wrong. We understand. That's why we've got condition monitoring experts on hand to guide you through the process.
We'll take the time to get to know your business and your machinery so that we can help you to choose the condition monitoring equipment that's right for you. Whether you're looking for basic condition monitoring equipment or a more sophisticated wireless machine health system, we can help.
Are condition monitoring systems difficult to set up?
The majority of condition monitoring systems are surprisingly simple to set up and are designed to be as user-friendly as possible.
If you need a helping hand getting your condition monitoring system up and running, we can help. We're happy to guide you through the process of setting up your system and to make sure that you know how to use your system going forwards. We want your business to succeed as much as you do, so we're right by your side, every step of the way.