Ruland oldham couplings become even more versatile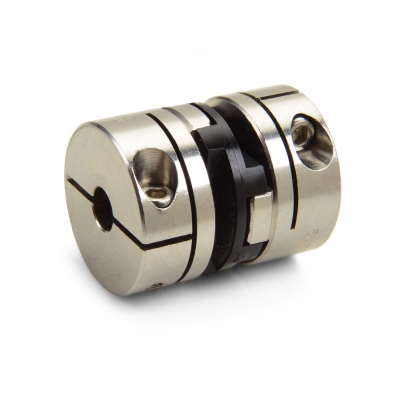 World-renowned couplings manufacturer, Ruland, has announced its new stainless steel oldham coupling: a huge step forward for applications operating in corrosive, vacuum and cleanroom environments.
Manufactured from 303 stainless steel, this coupling is ideal for use in corrosive, vacuum or cleanroom applications. Its zero-backlash design, along with its ability to accommodate all forms of misalignment make it ideal for use in a range of servo applications.
The stainless steel oldham coupling provides an excellent level of protection to sensitive machine components such as bearings, thanks to its balanced design which helps to dampen vibration at speeds of up to 6,000 RPM.
Oldham couplings comprise of two metal hubs, along with a centre disc. There are several options available for the centre disc, depending on the operating conditions and environment of the application. Acetal discs are ideal for applications which require zero-backlash and high torque capabilities, whilst nylon discs provide an excellent level of dampening and noise reduction. PEEK discs are suitable for high temperatures and deliver low outgassing.
Stainless steel hubs combined with a PEEK centre disc make this coupling ideal for use in servo applications within the food processing, packaging and medical industries.
A proprietary hub machining process is used which leaves a smoother surface between the hub and disc, delivering a longer service life and reduced downtime. In the event of failure, the disc can be replaced without needing to replace the metal hubs, reducing costs for the business. Oldham couplings are often also used as a mechanical fuse, as the disc breaks and prevents power transmission if the system is overloaded.
For more information about Ruland's range of stainless steel oldham couplings and to find out how they could benefit your business, contact our dedicated couplings division today.
You may also be interested in: