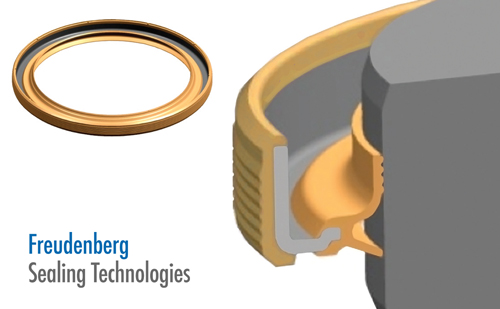 Often overlooked, seals are an important component in every application. From retaining bearing lubricant to preventing the ingress of contamination into a bearing, the role of a seal is critical to extend the service life of machinery.
However, seals can often contribute to the loss of energy efficiency within an application. This is due to friction between the seal lip and shaft, which generates excess heat during operation.
With energy efficiency a key priority in almost every industry, choosing energy efficient seals can not only save you money, but also enhance your corporate responsibility.
Introducing: Energy Saving Seals (ESS™) from Freudenberg Sealing Technologies
Freudenberg Sealing Technologies have created a radial shaft seal which is designed to improve energy efficiency. The Energy Saving Seal (ESS™) can demonstrate a significant reduction in power loss in drive assemblies when compared to standard seals.
Freudenberg's Energy Saving Seals' innovative design features a specialist elastomer which allows the seal to maintain the pressure force at a consistently low level, even under changing speeds and high temperatures. The main lip transmits a low radial force, optimising sealing function and abrasion resistance, whilst keeping friction to a minimum.
Friction is reduced by up to 40% when using an Energy Saving Seal, in comparison to conventional seals with a PTFE lip. This helps to increase energy efficiency, reduce power consumption and improve fuel economy in the application. Not only does this save money for the business, but it also helps to reduce environmental impact.
These energy efficient seals are manufactured from high performance FKM rubber, which provides outstanding resistance to extreme engine conditions, including wide temperature fluctuations and harsh synthetic oils. The outer diameter can be constructed from a choice of either full rubber or half metal and rubber to suit every application requirement and all operating conditions.
Renowned for delivering world-class sealing solutions in industries across the globe, Freudenberg Sealing Technologies is no stranger to pioneering innovative technologies to increase efficiency and deliver high performance solutions. Energy Saving Seals are no different, with unique features that could benefit almost every application.
For more information about Energy Saving Seals and how they could benefit your business, contact your local sales team today.