The simple solution to misalignment in heavy-duty applications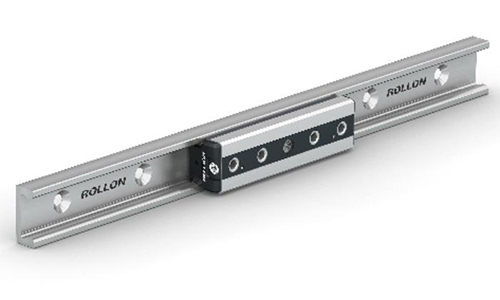 There aren't many choices available when it comes to choosing a linear guide for your heavy-duty application. The increased load requirements mean that many of the more sophisticated linear guides are unsuitable, leaving you with a narrow selection of larger profiled guides to choose from.
Heavy-duty profiled linear guides often don't do much to counter misalignment. The truth is, there just isn't much choice when it comes to finding a linear guide for your heavy-duty application, so you feel forced to settle for a linear system that just isn't right.
To counter the misalignment, you'll probably have to undertake complex maintenance tasks including grinding and machining the mounting surfaces, creating custom fixtures and adjusting bolts and shims to ensure the proper tolerances are met. This is both time consuming and costly. If only there were a solution that offered self-aligning features for heavy-duty linear applications.
Introducing Rollon Compact Rail Plus
Rollon has developed the perfect linear motion solution for use in heavy-duty applications. Rollon's Compact Rail Plus features the self-aligning capabilities that are usually only found in guides for medium-precision applications, without compromising on the load carrying capacity.
Rollon's Compact Rail Plus has been innovatively designed for the most demanding applications, standing up to heavy loads, high speeds and fast accelerations. Not only that, but it's also suitable for use in even the harshest of operating environments.
The robust construction of Compact Rail Plus features double-row ball bearings to facilitate enhanced load carrying capacity in both radial and axial directions. The new rails showcase convex raceways for optimum rigidity, along with robust steel sliders with longitudinal seals which protect the internal components from dirt and contaminants.
For applications where space may be limited, Compact Rail Plus stands out. This linear guide system features a C-profile which contains the sliders and rolling elements, helping to keep dimensions compact.
Where quiet operation is required, induction-hardened raceways are available which help to keep operating noise to a minimum whilst extending service life. A range of surface treatments are also available to provide outstanding resistance against corrosion.
Other heavy-duty linear guides fall down when it comes to accommodating misalignment. However, this is where Rollon's Compact Rail Plus excels.
This compliant guide is able to align itself to almost any mounting surface, making this guide suitable for mounting on non-machined structures. This helps to reduce the total assembly time, keeping your downtime to a minimum and reducing manual effort.
Not only that, but you can also create a customised self-aligning system that can compensate for misalignment errors on two planes. This is done by combining two rails with different sliders. When used in this way, Compact Rail Plus is able to accommodate up to 3.5mm of axial misalignment and ±1.3 degrees of radial misalignment.
Just because you're dealing with heavy loads in demanding applications, we don't think you should have to settle for complex manual methods of addressing misalignment. Rollon's Compact Rail Plus combines outstanding load carrying capacity with self-aligning capabilities to deliver robust and reliable performance for even the heaviest duty applications.
If you're looking for ways to deal with misalignment in your heavy-duty application, our linear motion experts are on hand to offer obligation-free advice and support. Contact us today to find out more.