Acorn Industrial Services Ltd acquires RW Bearings Ltd, becoming 'ACORN Gloucestershire'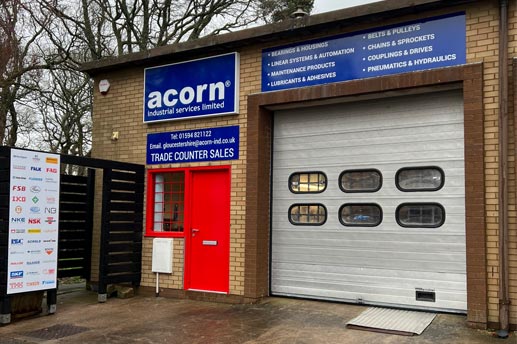 From 1st January 2023, Acorn Industrial Services Ltd completed its acquisition of RW Bearings Ltd by transitioning to an ACORN Branch, increasing Acorn's geographical reach within the UK market.
RW Bearings Ltd was formed in 2007 and quickly became renowned for its vast experience and emphasis on customer care, enabling them to create longstanding customer relationships within the region. Now 'Acorn Gloucestershire,' RWB proved to be an excellent fit with the products and services provided by Acorn Industrial Services.
On the acquisition, Branch Manager, Andrew Nelmes who has been with the branch since 2007 commented "Becoming 'Acorn Gloucestershire' offers many benefits and opportunities for us, including an increased product offering to customers in the area. We are extremely excited to see what the future looks like for us as an Acorn branch."
Based in the heart of the Forest of Dean, Acorn Gloucestershire can offer a wide range of products and solutions, which has only been strengthened due to Acorn's offering of over 7 million stocked MRO products.
Acorn industrial Services' Managing Director, Gavin Stacey commented "We are extremely pleased to welcome the Gloucestershire branch to our growing UK branch network. I am looking forward to working with the knowledgeable team and seeing how the branch grows and develops."
Acorn Industrial Services Ltd is part of Axel Johnson International, a global industrial group of more than 150 companies in 30 countries. Axel Johnson International drives business development and growth through a long-term approach to ownership in strategically selected niche markets, primarily technical components, and solutions for industrial processes. Axel Johnson International is organised in six business groups: Fluid Handling Solutions, Industrial Solutions, Lifting Solutions, Power Transmission Solutions, Transport Solutions and Driveline Solutions. Axel Johnson International is part of the Swedish family-owned corporate group Axel Johnson.
www.axinter.com