Five reasons to hire a SKF bearing heater from ACORN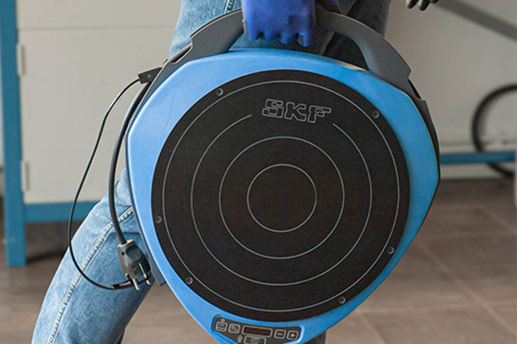 In the midst of a machine breakdown, you're focused on getting your business back up and running as quickly as possible, whilst keeping the costs to a minimum. Downtime is costly and no business can afford for production to be halted for longer than necessary.
However, it's important to remember the dangers of poor fitting when it comes to bearing replacement, otherwise you'll pay further down the line. 16% of all premature bearing failures can be attributed to poor fitting practices. These include using brute force or naked flames.
Bearing heaters provide an effective method of mounting bearings. They gently heat the bearing to the correct temperature for fitting, protecting the bearing and shaft from damage. At the same time, bearing heaters help to ensure worker safety.
SKF is a leading manufacturer of bearing induction heaters, with a wide range of options available to suit every application. Along with bearings, these heaters can also be used to mount a range of other components such as couplings.
Here are five reasons to hire a SKF bearing heater from ACORN:
1. Reduce downtime
Downtime is a problem in every industry. Without production, profits quickly plummet, so downtime needs to be kept to a minimum. SKF bearing heaters ensure that the replacement bearing is fitted quickly and effectively. This helps the business to reduce downtime in two key ways.
Firstly, the time taken to replace the bearing is kept to a minimum. SKF bearing heaters quickly heat the bearing to the correct temperature, alerting the user when the bearing is ready to be fitted. This means that the replacement bearing can be quickly fitted onto the shaft so that the machinery can get back up and running as quickly as possible.
Secondly, SKF bearing heaters provide a safe and effective method of fitting, ensuring that the bearing does not suffer damage during the fitting process which could later lead to premature bearing failure and hence further downtime.
Keeping downtime to a minimum means that your productivity is optimised and your profits maximised.
2. Minimise costs
Lower costs mean higher profit margins – a benefit to any business. You want the best for your machinery, but you also want to keep costs down wherever possible.
If fitting bearings isn't a regular occurrence for you, hiring a SKF bearing heater may work out as a more economical option for your business than purchasing. Paying to hire the bearing heater for just the timespan you require helps to keep your costs to a minimum whilst you benefit from the unique features of a SKF bearing heater.
There's also no need to worry about maintaining the bearing heater. You can leave the maintenance to us while you concentrate on what's important to your business.
3. Improve worker safety
Every business wants to keep their workers safe. Luckily, SKF bearing heaters put worker safety at the forefront. Unlike oil baths or naked flames, SKF bearing heaters have an outstanding safety record, helping to minimise the risk of injury to your maintenance engineers.
To promote operator safety, SKF induction heaters are equipped with bearing support arms which reduce the risk of the bearing toppling during heating, along with ergonomic yokes to reduce operator fatigue. The innovative remote-control feature also enables the operator to control the heater at a safe distance from the hot bearing, further enhancing worker safety.
Hiring a SKF bearing induction heater from ACORN allows bearings to be replaced quickly and efficiently, without compromising on the safety of your workers.
4. Ultimate flexibility
When you hire a SKF bearing heater from ACORN, you are guaranteed ultimate flexibility. Whether you're looking to hire a portable mobile heater for small bearings up to 20kg in weight like the TWIM 15, or a large bearing heater such as TIH 220M which is capable of heating bearings up to 300kg in weight, ACORN can help.
The ACORN range of SKF induction heaters includes:
TWIM 15
TIH 030M
TIH 100M
TIH 220M
We are also able to offer a high level of flexibility on the duration of hire. Hire for just a day, a week or even a month. You can even hire a bearing heater to try it out before deciding to purchase. We're completely flexible when it comes to the duration of hire.
5. Same day availability
If you're faced with a machine breakdown and you need to get back up and running as soon as possible, you don't want to be left waiting around. That's why we offer same day availability on SKF bearing heater hires. You can collect same day from one of our branches, or we can offer a fast and reliable shipping service with same day despatch.
Looking to buy a bearing heater? See the full range of bearing induction heaters here.