Minimise machine breakdown with minimal effort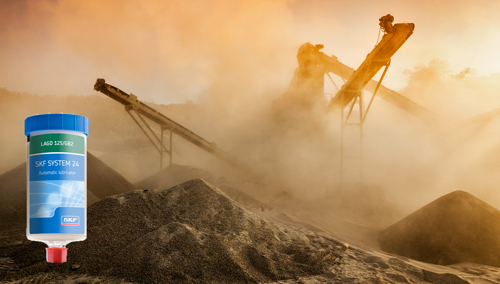 The mining and quarrying industry is well known for its unrelenting environmental and operating conditions. These conditions put bearings and other machine components under extreme strain, pushing them to their limits.
Maintenance in this industry carries risk. Since the year 2000, over 3,500 accidents within the UK aggregates industry have been reported to the Health and Safety Executive, with 31 of these being fatal. And with workers up to 28% more likely to be involved in an accident when performing reactive maintenance rather than planned maintenance, the benefits of reducing machine breakdown are clear.
A major cause of machine breakdown in the mining and quarrying industry is improper lubrication, with around 36% of premature bearing failures attributed to poor lubrication practices. But how can lubrication practices be improved without increasing worker risk?
SKF manufactures a range of automatic lubrication systems which are ideal for use in the mining and quarrying industry. These systems are pre-loaded with grease or oil, which is then applied directly to the selected components at pre-defined intervals.
This ensures that components receive the correct quantity of lubricant at the right time, reducing the chances of machine breakdown. Automatic lubrication systems also help to promote worker safety as less manual effort is required to apply lubrication to machinery.
At ACORN, we have experts who specialise in helping you to design the perfect lubrication system and schedule for your mining and quarrying application. We can offer on-site visits to help you to choose the ideal solution for your machinery.
Contact your local sales team today to find out more about how SKF automatic lubrication systems could benefit your mining and quarrying application.