ContiTech® SilentSync®: Quietly Solving Problems in Every Industry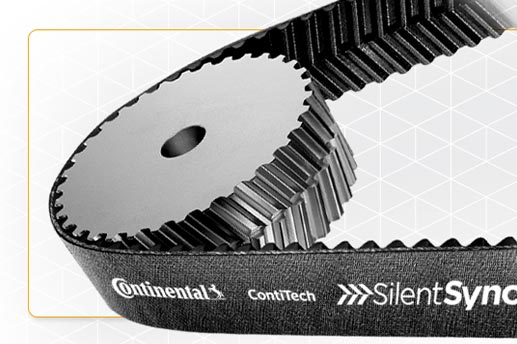 When you think about your business, what challenges instantly come to mind? Is it the high levels of operational noise, the never-ending maintenance requirements or the low levels of efficiency? Are we ringing a few bells here?
Every industry has its challenges and some are easier to resolve than others. But what if we told you that there was one industrial belt that could change the way your applications operate completely? One belt that can address several of your application challenges in one go.
Introducing ContiTech SilentSync
ContiTech® SilentSync® is a self-tracking timing belt which has been designed for quiet operation on even the most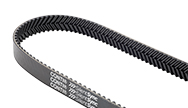 demanding of applications. This synchronous timing belt is the ideal choice for horizontal belt drives which demand high levels of efficiency.
If you're looking for a low maintenance belt which will help you to reduce your downtime and optimise your productivity, Helical offset tooth belts may be the best belt for your application.
What Makes SilentSync Different?
Imagine a belt that requires no maintenance and reduces both operating noise and vibration. You're imagining the helical offset tooth belt that is ContiTech SilentSync.
SilentSync isn't like other belts. This synchronous timing belt has been specially designed by ContiTech to out-perform other belts and offer a range of benefits that many plant managers could only dream of.
Just some of the benefits of this unique timing belt include:
Reduced operating noise

Maintenance-free operation

Improved energy efficiency

Reduced vibration
Increased horsepower

Minimised downtime

Reduced drive width and weight

Ability to run in either direction
How Does SilentSync Compare to Timing Belts and V-Belts?
Application designers are often forced to choose between the inefficiencies of a v-belt and the noisy operation of timing belts. This is where SilentSync offers an appealing alternative.
Helical offset tooth belts vs Traditional timing belts
Timing belts are known for their high levels of noise. They often exceed the OSHA permissible noise exposure levels, causing unnecessary noise pollution. When compared to traditional timing belts, SilentSync offers up to 19% noise reduction. This is a result of its innovative helical offset tooth design which reduces vibration levels, helping to minimise noise during operation.
These belts can also be used in compact drives, where space and weight are key considerations. This is due to its high-power rating which enables smaller belt sizes to be used. This means that SilentSync belts are available to suit small pulley diameters and narrow belt drives, without compromising on power.
SilentSync vs V-belts
V-belts are often specified for their small space requirements. However, they have low levels of energy efficiency and often don't stand up to high-powered applications. As well as being suitable for use on compact drives, SilentSync offers high levels of power transmission, making it suitable for use in demanding applications.
As they rely on friction for operation, v-belts lose a lot of energy to heat loss. SilentSync delivers a 5% improvement on the typical energy efficiency of v-belts thanks to its high levels of flexibility and minimal heat generation. This can deliver impressive energy savings which any business would be thankful for.
Finally, SilentSync offers a maintenance-free alternative to v-belts. This synchronous belt requires no tensioning throughout its service life, providing it is installed correctly, helping to keep downtime to a minimum and prioritising your productivity.
Choose SilentSync for…
Low Noise Operation
If you're looking for low noise operation, a helical offset tooth belt could be the ideal solution for your application. This synchronous belt offers up to 19% reduction in operating noise thanks to its innovative helical offset tooth design. This makes SilentSync ideal for use in applications where noise levels are a concern.
Reduced Energy Consumption
Sustainability is key in today's modern world. That's why SilentSync prioritises energy consumption, with up to 98% energy efficiency – that's a 5% improvement on the typical energy efficiency of a v-belt. Choosing SilentSync will deliver an immediate energy saving on any application, but this will really add up on high-energy drives which run continuously.
Maintenance Free Operation
Productivity is central to running a successful business – there's no time for downtime. SilentSync prioritises maintenance free operation, with no re-tensioning required throughout the belt's lifespan, as well as no need for lubrication. This helps to optimise your productivity, allowing you to focus on what really matters to your business.
Need Help Choosing the Right Belt?
If you need help choosing the right belt for your machinery, we have power transmission experts on hand to advise you. They will work to fully understand your individual requirements and pain-points to identify the right products for your application.