Enhance your performance with EWELLIX D-series linear ball bearings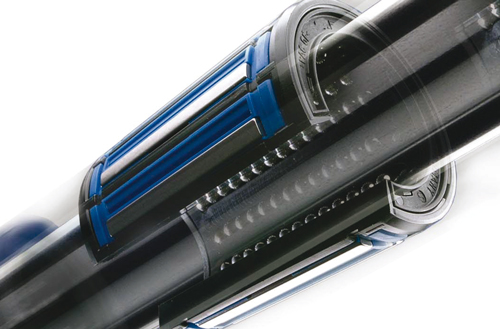 Earlier this year, EWELLIX successfully launched the D-series of open linear ball bearings, bringing a new class of performance to linear motion. The LBCT D and LBCF D open linear ball bearings are ideal for use on supported shafts.
The new D-series of open linear ball bearings offers vastly improved running characteristics along with increased load ratings and a simplified mounting procedure. This helps to slash downtime whilst improving efficiency – something that every business is looking for.
These open linear ball bearings by EWELLIX offer a considerable increase in the dynamic load rating, with up to 40% extra capacity when compared to the previous model. This is thanks to the optimised geometry of the raceways and the larger rolling elements. This increase in load capacity means that users can downsize and use smaller bearings with higher load ratings, saving installation space and reducing the overall weight of the application.
The LBCT D and LBCF D open linear ball bearings facilitate fast production cycles, along with high output. Accelerations of up to 100 m/s2 are tolerated, along with a maximum speed of 5 m/s. This means that these bearings are suitable for use in many high-speed applications.
Keeping downtime to a minimum is essential for businesses looking to optimise productivity and maximise profits. That's why EWELLIX has made this range of open linear ball bearings as easy as possible to install. The main load direction and the lubrication port position is clearly marked, making installation and replacement quick and easy.
EWELLIX D-series open linear ball bearings offer smooth linear motion with a low coefficient of friction and minimal noise. This is due to the innovative cage design, the larger raceways and the optimised ball recirculation.
These bearings can be used as a direct replacement for their predecessors. With an ambient temperature range of between -20 and +80 degrees Celcius, these open linear ball bearings are ideal for use in a vast range of applications, including traditional machine and plant construction, transport and handling solutions and medical applications.
If you're looking for high levels of rigidity, the LBCT D variant is the way to go. Its straight raceways offer outstanding levels of rigidity and stiffness, ensuring highly accurate and precise linear motion.
However, if you need a linear bearing which allows of shaft misalignment, the LBCF D variant may be the right option for you. This design is able to compensate bearing or shaft misalignment of up to 30 minutes of arc, automatically balancing out alignment errors.
Many options are available including lightweight linear bearing units with aluminium housings, flanged bearing units, tandem and quadro variants.