How to increase the longevity of your food grade lubricant without increasing your costs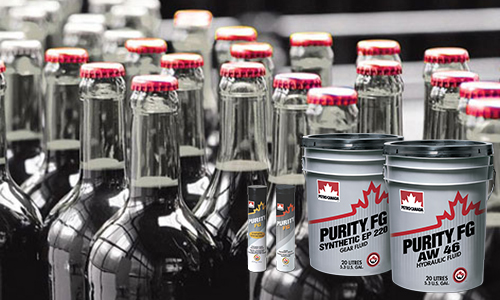 Productivity is the key in the food and beverage industry. The more efficient your plant is, the higher your profit margins will be. As well as being an inconvenience, downtime is often costly, and no business can afford to lose profits unnecessarily.
Downtime occurs in two ways: through planned maintenance and machine breakdowns. Maintenance is scheduled for machinery to be inspected and re-lubricated, with replacement being carried out where required. Although scheduled maintenance is expected, this still needs to be kept to a minimum and performed as quickly as possible to maintain productivity. Unscheduled machine breakdown is more problematic as it is unexpected and often costly.
With 36% of premature bearing failures resulting from poor lubrication, it is clear that machine breakdown could be greatly reduced by using the optimal lubrication in the correct quantities. Petro-Canada has created the PURITY™ FG range of lubricants to ensure optimum performance in the food and beverage industry.
These lubricants are manufactured from some of the purest base oils at Petro-Canada's world-class refinery. The manufacturing process is strictly controlled to ensure the highest levels of product consistency and quality.
The manufacturing process begins with the HT Purity Process which produces 99.9% pure, crystal-clear base oils. This process aims to remove all performance-hindering impurities, resulting in a pure base from which to formulate the range of PURITY™ FG lubricants.
This purification process results in lubricants which deliver a superior lifespan thanks to their exceptional levels of thermal stability and oxidation resistance. This means that these lubricants resist breakdown in even the harshest of operating environments and are effective across a wide range of temperatures.
For heavy-duty machinery which is subject to shock loads, this range of lubricants offers outstanding protection for critical components such as gears and bearings, even under shock loading conditions.
The food and beverage industry is subject to stringent regulation. This means that any components used in this industry must comply with the strict guidelines. This range of lubricants are ideal for use in the food and beverage industry, thanks to their full range of food-safe credentials. This include NSF certification for use in and around food processing areas, as well as both Halal and Kosher certification.
The industry is also subject to regular high-pressure washdowns to ensure the highest levels of hygiene are maintained. Petro-Canada's PURITY™ FG range of lubricants has an extremely high resistance to washout, whilst protecting critical components from rust, wear and corrosion.
The Petro-Canada PURITY™ FG range includes oils, greases and fluids to deliver the highest levels of performance to virtually any food and beverage application, no matter how harsh the environment.
ACORN stocks a vast range of Petro-Canada PURITY™ FG lubricants which are available for same day collection or despatch. Contact your local sales team today to find the right product for your application.