Optimising power transmission for the Mining & Quarrying industry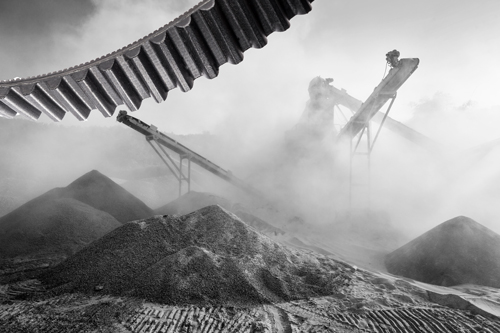 Operating conditions in the mining and quarrying industry are notoriously harsh. High levels of contamination combined with heavy shock loads and excess vibration mean that machine breakdown happens regularly in this industry.
Site managers must carefully consider every component that goes into their machinery, assessing it for durability and strength to ensure it can stand up to the arduous conditions.
These challenging conditions often lead site managers to feel like there is only a limited selection of parts available to the industry, so they feel forced to choose between the performance and durability of components.
This is especially true for power transmission, where designers typically feel like there is no alternative to the noisy and high maintenance roller chain that is often specified for mining machinery.
But what if there was another option for power transmission in the aggregates industry?
Focusing on what's important in the mining and quarrying industry
There are a number of conflicting priorities which must be carefully balanced in the mining and quarrying industry.
Firstly, ensuring the safety of workers in aggregates plants is crucial. Statistically, mining and quarrying is one of the most dangerous industries to work in. Since 2000, there have been over 3,500 accidents in UK quarries which have been reported to the Health and Safety Executive, with 31 of these being fatal. Accidents are something that no plant wants to experience, so optimising the safety of workers is key.
This can be done by extending maintenance intervals and reducing the chance of machine breakdown – another priority for the mining and quarrying industry. As well as keeping workers safe, reducing the risk of machine breakdown also helps to minimise the costs to the business. As any site manager will know, any breakdown in the aggregates industry can be costly, with every second of downtime critical.
Power transmission is one area where improvements can be made to extend maintenance intervals, reduce the chance of machine breakdown and prioritise worker safety.
Roller chain for the mining and quarrying industry
Roller chain is one of the most common forms of power transmission that you'll find in a quarry. This traditional form of power transmission is highly popular thanks to its ability to transmit high levels of power at low speeds.
However, roller chain also has a few disadvantages. Most types of roller chain require extensive maintenance including frequent lubrication and regular re-tensioning. Frequent lubrication helps to extend the life of the chain in contaminated environments, whilst ensuring smooth operation. Re-tensioning is required as the pins and bushings of the chain wear and elongate, causing the chain to stretch. These high levels of maintenance requirements lead to frequent downtime.
Roller chain is also known for being noisy during operation. This means that roller chain is not suitable for use in applications where noise is a concern. It is also heavy in weight, meaning that it increases the weight of an application dramatically and can be difficult to fit, maintain and replace.
Synchronous belts for the mining and quarrying industry
Some site managers choose synchronous belts for their power transmission requirements. Synchronous belts offer many advantages over roller chain, making them a suitable option for many mining and quarrying applications.
When you choose a synchronous belt for use in your machinery, you're likely to reduce your downtime significantly. This is due to the low maintenance requirements of synchronous belts when compared to most types of roller chain. Synchronous belts do not require any lubrication and offer a good service life providing the right belt is chosen for the application requirements.
Synchronous belts also offer greater levels of precision and positioning accuracy in comparison to roller chain. This makes these belts more suitable for applications which require precise motion than roller chain.
With a wide range of operating speeds available and quiet operation, it's easy to see the benefits of switching your power transmission drive over to a synchronous belt. But which belt should you choose?
Experience unmatched performance with Gates POLY CHAIN® CARBON™ VOLT®
If you're looking for outstanding levels of performance coupled with maintenance-free operation, Gates POLY CHAIN® CARBON™ VOLT® offers an excellent alternative to roller chain in the mining and quarrying industry.
With a tough yet lightweight polyurethane construction, Gates POLY CHAIN® CARBON™ VOLT® offers high levels of durability. The innovative patented curvilinear tooth profile enables the belt to mesh effectively with the teeth of pulleys, providing 99% drive efficiency throughout the belt's service life.
Gates POLY CHAIN® CARBON™ VOLT® also showcases a patented antistatic jacket which covers the teeth of the belt, delivering outstanding static-conductivity which is compliant with ISO 9563.
As its name suggests, this belt features fatigue-resisting carbon fibre reinforcement which provides superior strength and exceptional resistance to shock loads. This innovative feature also helps to reduce stretch and ensure length stability within the belt.
Thanks to the length stability offered by its carbon fibre tensile cords, Gates POLY CHAIN® CARBON™ VOLT® is able to operate without requiring any re-tensioning. Unlike roller chain, this belt does not require any lubrication for efficient operation, so it is completely maintenance-free. If you're looking to reduce downtime, this belt is ideal.
With over 120,000 possible drive combinations, Gates POLY CHAIN® CARBON™ VOLT® is suitable for use in a wide range of applications, including heavy-duty conveyor drives. Its suitability is further enhanced by its ability to stand up to some of the harshest operating environments including acids, chemicals and water contamination.
When you choose Gates POLY CHAIN® CARBON™ VOLT® for your mining and quarrying application, you're receiving the benefit of over a century of industry experience and product development from Gates. This expertise has enabled Gates to develop a belt which is able to outlast roller chain by up to four times, helping to keep downtime to a minimum.
To sum up
Reducing downtime and minimising the risk of worker injury are critical in any plant. Careful thought and consideration need to be put into the choice of every single component to ensure that it won't lead to premature failure later down the line.
Gates POLY CHAIN® CARBON™ VOLT® is an ideal choice for a vast range of mining and quarrying applications, standing up to the harsh conditions whilst prioritising durability and performance. Every single one of Gates' belts is manufactured to the highest possible standards, with innovation at the centre. POLY CHAIN® CARBON™ VOLT® is no different.
If you're looking for a Gates belts distributor, look no further. ACORN stocks a broad range of Gates industrial belts, including the best-selling Gates POLY CHAIN® and Gates PowerGrip belts.