Clive Reviews New SKF Maintenance Product Catalogue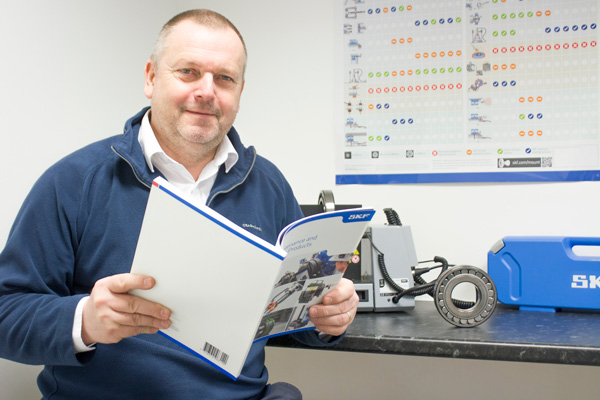 SKF have released a new publication of the highly popular Maintenance and Lubrication Products catalogue. With 192 pages of the latest and updated SKF maintenance equipment and lubricants to ensure the best quality MRO products and solutions.
New items to this catalogue include new shaft alignment systems, fitting tools, induction heaters, bearing pullers, and food grade and harsh environment greases. Our Maintenance Equipment Product Manager Clive points out emphasis on the importance of the correct maintenance and lubrication practices in the catalogue. Not only this, but we have Clive's top ten recommended new products from SKF's range:
TMFT 24 - 24 piece Fitting kit
TMMK 20-50 - Combi kit
TMIC 7-28 - Internal Puller - allows for smaller area of purchase behind the bearing - 3mm
Updated range of Shaft Alignment - TKSA 20, 40, 60 & 80 replaced by TKSA 11, 31, 41, 51, 71 - Android and App supported
LGFQ 2 - High Temperature Food grease
LGED 2 - High Temperature, harsh environment grease
LFFH46 & 68 - Food grade Hydraulic Oil
LFFG 220 & 320 - Food grade Gear Oil
LGLS 0 - Low temperature Chassis Oil
TLGB 20 - Battery-driven Grease gun
For a printed copy of the new Maintenance and Lubrication Products Catalogue, you can get in touch with Acorn via email: marketing@Acorn-ind.co.uk. Alternatively, download the catalogue from our website.
To keep up with more innovations and solutions, follow us (opens new window) on LinkedIn.