The one-stop solution for abrasive environments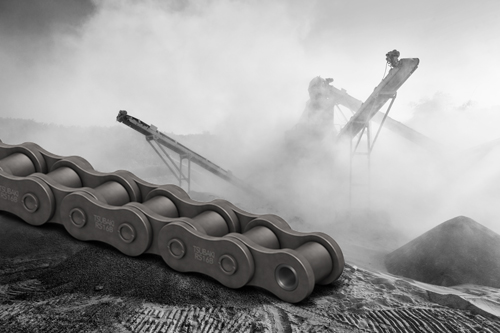 An abrasive operating environment is the norm in many industries. From mining and quarrying to cement and construction, many of our most essential industries are faced with abrasive operating environments.
To keep these critical industries moving, it's imperative that equipment is able to stand up to the job. Reliability and productivity are crucial. This is where Tsubaki comes in.
For many years, Tsubaki has been delivering robust conveying and power transmission solutions which are designed to stand up to even the most abrasive and demanding of applications. Tsubaki's innovative product range offers an extended service life combined with high-performance power transmission.
Drive chain for abrasive environments.
It can be hard to find the right drive chain for harsh and abrasive environments, particularly in areas which are subjected to high levels of contamination. Particles often find their way into moving components, compromising the performance of drive chain whilst significantly reducing its lifespan.
To counter the problems faced when specifying drive chain for abrasive industries such as cement plants, Tsubaki has pioneered an innovative new drive chain. Tsubaki's Titan chain offers an extended service life in even the most abrasive of environments.
This innovative chain showcases high-precision seamless bushes with lube grooves. These lube grooves hold oil where it's needed the most to minimise the wear between the pin and bush. This leads to a vast improvement in service life.
Tsubaki's Titan chain also features special coated pins which deliver an extra hard and low friction surface to extend wear life and minimise maintenance costs and downtime. Tsubaki's unique ring coin connecting links further optimise service life and reduce the total cost of ownership.
Conveyor chain for abrasive environments
Conveyor chain is another area where abrasive contamination can cause problems in harsh environments such as cement mills and quarries. However, Tsubaki has the answer.
Tsubaki manufactures an extensive range of large size conveyor chains which are highly customisable. There are a wide variety of materials and heat treatments available, along with corrosion resistant coatings, attachments and roller types.
The high level of customisation offered means that Tsubaki conveyor chain is perfectly placed to stand up to the unique challenges of your operating environment.
Bucket elevator chain for abrasive environments
When you've got bulk materials that need to be transported vertically, you'll probably be using a chain bucket elevator. However, it can be hard to get the balance of the strength required along with the ability to stand up to the harsh and abrasive environment when you're specifying bucket elevator chain.
Many years of innovation has gone into Tsubaki's pioneering bucket elevator chain, making it ideal for use in abrasive environments. With maximum fatigue strength to stand up to the continuous loading and unloading cycles, along with outstanding wear resistance and corrosion protection, Tsubaki bucket elevator chain is built for performance.
Reclaimer chain for abrasive environments
Another area where abrasive contamination poses challenges for power transmission is in reclaimer chains. Tsubaki has the answer, manufacturing a wide range of fully customisable reclaimer chains which have been specifically designed to meet the unique challenges of your abrasive environment.
Featuring an innovative labyrinth construction to guard against the ingress of debris, Tsubaki's reclaimer chain is designed for outstanding service life and low maintenance operation. And with a wide variety of base materials, corrosion resistant coatings, attachments and rollers available, there really is an option for every reclaimer.
Inclined pan conveyor chain for abrasive environments
When you're specifying chain for an inclined pan conveyor, you need to know that it's durable enough to stand up to the demands of the industry whilst offering accurate operation. That's where Tsubaki comes in.
Tsubaki's inclined pan conveyor chain features a high rigidity design to deliver outstanding reliability. This helps to keep downtime to a minimum whilst promoting service life. This robust construction is coupled with excellent tolerances on matched pairs to ensure an even load distribution and extended wear life.
Sprockets for abrasive environments
No matter how suitable your chain is, it needs the right sprocket to perform to the best of its ability. Chains and sprockets need to work together as a system to deliver chain reliability.
Tsubaki has dedicated many years of innovation to crafting sprockets which perform in even the most abrasive of environments. They are manufactured from premium materials and selectively hardened on the teeth and wearing surfaces to maximise chain life.
Backstop clutches for abrasive environments
Designed to prevent the reverse rotation of drive shafts, backstop clutches are essential for protecting machinery from damage. Tsubaki has pioneered the non-rollover cam design for inclined conveyor backstop applications.
Tsubaki's BS-F Cam Clutch is ideal for use in abrasive environments and heavy load applications. The non-rollover cam helps to reduce overrunning whilst promoting service life with optimum internal greasing. It also features enhanced dust sealing to protect from abrasive contamination and further extend service life.
To sum up
If you're looking for robust and reliable power transmission products for use in abrasive environments, Tsubaki has the answer. With a whole range of customisable power transmission products, Tsubaki can help to reduce your total cost of ownership whilst minimising your downtime.