Reduce Your Carbon Footprint with These Products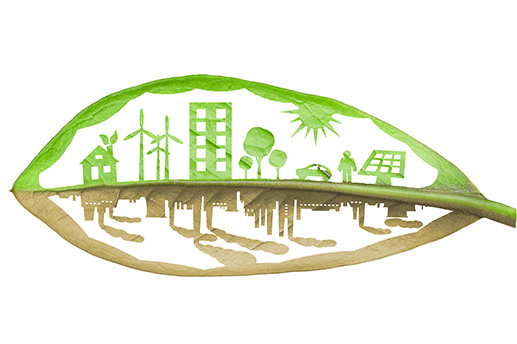 Reducing our CO2 emissions is one of the most important steps we can take to combat the effects of climate change and protect the health and wellbeing of life on our planet. The primary cause of rising CO2 levels is human activity, most notably our reliance on fossil fuels for energy production, transportation, and manufacturing. By choosing components that have been produced with lower carbon emissions, we can help to reduce our carbon footprint and protect the health of future generations to come.
In this article, we'll show you some of our favourite products that are manufactured with sustainability in mind, helping you to do your part when it comes to Corporate Social Responsibility.
NSK Bioplastic Bearing Cages
NSK is leading the way when it comes to reducing carbon emissions in industry with its newly launched bioplastic bearing cages. These heat resistant bearing cages are made from renewable biomass sources, mainly coming from plant materials. This marks the first time a bearing manufacturer has successfully launched a bioplastic bearing cage and has the potential to transform the market.
In comparison to standard steel cages, bioplastic bearing cages are lighter and have a lower coefficient of friction, allowing for more efficient operation. Not only that, but they can also be designed in more advanced shapes, delivering more benefits than ever before, whilst paving the way to a carbon neutral society.
These newly developed bioplastic bearing cages are currently available for use in the bearings within fan motors of air conditioning units. However, NSK hopes to expand the range in the near future, so that every bearing will eventually be available with the option of a bioplastic cage, reducing CO2 emissions and promoting a more sustainable society.
TSUBAKI Lambda Chain
Another product that is leading the way when it comes to reducing carbon emissions is TSUBAKI Lambda chain.
Lambda is a maintenance-free chain which has NSF-H1 food grade lubricant impregnated within its bushes. This means that the chain can be used throughout its service life without any relubrication required. Not only does this save time when it comes to maintenance, but it also reduces chemical waste, minimising your impact on the environment.
This innovative maintenance-free design also means that Lambda chain has a substantially longer service live. This means that replacement is required significantly less frequently, resulting in a reduction in CO2 emissions for the manufacturing process, as well as a lower consumption of raw materials.
Not only does TSUBAKI Lambda chain reduce carbon emissions, but it promotes all-round sustainability whilst optimising your uptime and keeping your business moving.
TSUBAKI GT4 Winner Chain
The GT4 Winner chain from TSUBAKI is another great example of a product that has been designed with sustainability in mind.
This innovative roller chain showcases a 35% wear reduction when compared to competitor chain. This increase in service life means that you won't need to replace your chain as often, keeping CO2 emissions to a minimum.
Not only that, but GT4 Winner chain also features innovative Lube Groove seamless bushes which help to reduce maintenance requirements. This means that you'll save time (and money) on relubrication, whilst further reducing your impact on the environment.
This chain is also made from high quality materials which can be recycled at the end of its service life, promoting a circular economy and a sustainable future for generations to come. In fact, TSUBAKI estimates that GT4 Winner chain provides a 66% reduction in CO2 emissions throughout its service life when compared to its predecessor - an impressive feat!
In Summary
In today's world, every business is trying to do its bit in reducing CO2 emissions and contributing to a more sustainable society. There are many products available today that are manufactured with this in mind, from NSK's bioplastic bearing cages to TSUBAKI's Lambda and GT4 Winner chain. These innovative and sustainable products can help to reduce your carbon footprint and contribute to a better tomorrow.
If you're searching for ways to reduce your carbon footprint and make more sustainable choices when it comes to specifying components for your machinery, our knowledgeable sales team is on hand. Give us a call and we'd be delighted to help.
---
You may be interested in:
When Reliability Meets Sustainability: Aligning Sustainability Targets with Food Safety