Brands in the Spotlight: Nadella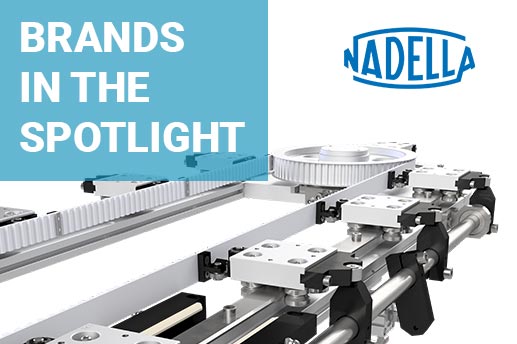 Nadella is a world-renowned manufacturer of linear products, which are renowned across the globe for their precision and quality. You'll find their products are used in a variety of industries, including aerospace, automotive, and medical.
But who exactly is Nadella and which of their products should you be looking out for?
In this article, we'll shine a spotlight on Nadella, giving you a unique insight into this brand. Read on to learn more about Nadella, including the types of linear products that they manufacture and where those products are used.
Who is Nadella?
Nadella was founded in France in 1930, when it began manufacturing needle bearings. It quickly gained traction as a leading manufacturer of bearings, but it wasn't until 1984 that Nadella began developing, manufacturing and selling its first ever series of guide roller and guide rails.
This came at a time when the world was transitioning to using more machinery in production, rather than relying on manual labour. The innovation of Nadella linear motion products enabled more businesses than ever to begin creating machinery that would make processes faster and more efficient, transforming the way we work.
Nadella has continued to be at the forefront of linear motion technology, and today the company boasts an impressive range of products that are used in a variety of industries across the globe.
What products does Nadella offer?
Nadella manufactures a broad range of linear motion products, from linear actuators to linear accessories. Let's take a look at just some of the products manufactured by Nadella.
Complete linear systems
If you're looking to reduce your time spent designing whilst maximising your performance, Nadella's complete linear systems are the ideal solution. These ready-to-use linear systems are composed of a series of Nadella products that have been perfectly matched to create a solution for your specific application, helping you to reduce your downtime, maximise your efficiency and focus on what's really important to your business.
Linear actuators
Nadella's linear actuators are designed for use in a variety of industries, including automotive, construction, and medical. These actuators offer high precision and reliability, making them ideal for use in critical applications.
One of the most popular Nadella linear actuators is the AXN range of position actuators, which offer a high degree of control and accuracy. These actuators are often used in medical applications, such as in robotic surgery, where precise movements are essential.
Linear guide rails
Nadella's linear guide rails have been innovatively designed to facilitate high speeds with low noise, and they're perfect for use in applications where high precision is required. These guide rails are available in a variety of sizes and lengths, so you can find the perfect one for your needs.
Linear carriages
Nadella's linear carriages are perfect for use in a variety of applications, including machine tools, packaging machinery, and medical equipment. When you choose a Nadella linear carriage, you can choose from ball or roller recirculating elements, giving you ultimate flexibility for your application. These linear slides offer high precision and smooth operation, making them ideal for use in demanding applications.
Linear accessories
Nadella also manufactures a range of linear accessories, including linear bushings, linear shafts and lubrication products. These accessories are designed for use with Nadella's linear products, and they offer the same high quality and performance that you've come to expect from the brand.
Where are Nadella products used?
Nadella's versatile linear motion products are used in a variety of applications, across the globe. Here are just some of the industries in which you'll find Nadella linear motion products.
Automotive: Nadella's linear actuators can be found in many types of automotive application, including transmissions, brakes, and suspension systems.
Aerospace: You'll also find Nadella linear motion products in aerospace applications, including aircraft control surfaces, landing gear, and door actuators.
Medical: The medical industry relies heavily on Nadella linear motion, for example within prosthetic devices, surgical robots, and patient lifts.
Food and beverage: Nadella products are also used in food and beverage applications, where they assist with the filling and packaging of products.
Processing and packaging: You'll find Nadella linear motion products in processing and packaging applications, such as in canning and bottling plants.
Pharmaceuticals: The pharmaceuticals industry relies on Nadella linear products, particularly in pick and place machinery which depends on high levels of accuracy and precision.
Where to buy Nadella linear products
It's easy to see why so many people choose Nadella for their linear needs. But where can you buy Nadella linear motion products?
At ACORN, we consider ourselves to be experts when it comes to linear motion. We have a wide range of Nadella linear motion products in stock for same day despatch and our team are on hand to assist you in finding the perfect product for your application requirements.
With fast delivery and outstanding customer service, you can be confident that you are getting the best possible service when you buy Nadella linear from ACORN.
Give us a call today to find the right Nadella product for your application.