Electric motor problems and solutions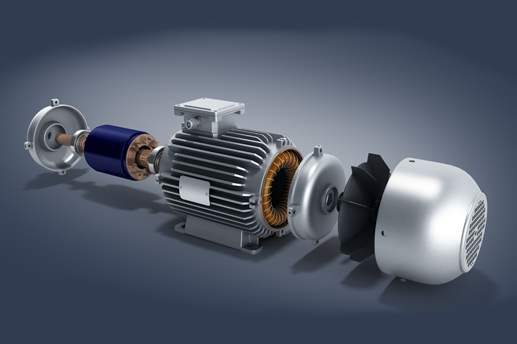 Often the driving component of an application, electric motors play a central role in machinery in every industry. A failure in this critical piece of machinery could be catastrophic to the business, with the potential for high costs and a long period of downtime.
Understanding the common problems that can occur with electric motors can allow you to put measures in place to avoid failure and give your electric motor the best possible chance of achieving its maximum possible service life.

1. Low resistance
Low resistance is the most common cause of failure in electric motors. It is also often the most difficult to overcome. Under conditions such as overheating, corrosion or physical damage, degradation of the insulation of the internal windings of the motor may occur. This then causes insufficient isolation between the motor windings or conductors, leading to short circuits, leakages and eventually motor failure.
Regularly inspect the insulation of the windings for signs of wear and replace before low resistance leads to failure. If you are unsure, consult an expert.
2. Overheating
Overheating is generally caused by either a high temperature in the operating environment or poor power quality. It is responsible for around 55% of insulating failures in electric motors. For every 10 degrees Celsius that the temperature of a motor rises, the insulation life is reduced by half.
To avoid overheating, ensure that electric motors are kept as cool as possible. This can be done by maintaining as cool an operating environment as possible and regularly checking the temperature of the motor.
3. Electrical overload
Electrical overload is also commonly referred to as overcurrent. It is caused by an excessive flow of current within the windings of the motor, which exceeds the design current that the motor is able to carry efficiently and safely.
Overcurrent is often the result of a low supply voltage, which results in the motor drawing in more current in an attempt to maintain torque. Electrical overload can also be caused by short-circuited conductors, or an excessive voltage supply.
It is important to install effective overcurrent protection which is able to detect overcurrent and interrupt supply to protect the motor.
4. Vibration
Vibration can be extremely damaging to electric motors, frequently causing premature failure. It is often caused by the motor being positioned on an uneven or unstable surface. However, vibration can also be a result of an underlying issue with the motor, such as misalignment or corrosion.
Electric motors should be regularly inspected for vibration using a motor analysing tool.
Ensure that electric motors are positioned on a flat and stable surface. If vibration still occurs, check for signs of wear, as well as misalignment or loose bearings. Consider contacting a specialist if the source of vibration cannot be easily identified.
5. Contamination
Electric motors frequently operate in environments where dust, dirt and chemicals are present, which may find their way inside the motor, leading to contamination and motor failure. These contaminants can dent bearing raceways and balls, leading to high levels of vibration and wear. They may also block the cooling fan, limiting the motor's ability to regulate its temperature and increasing the chances of overheating.
As contamination is one of the leading causes of failure in electric motors, it is essential to prevent it from entering the motor. Luckily, this is relatively easy.
Ensure that work areas, tools and fixtures are kept as clean as possible at all times to help eliminate the chances of contamination entering the motor. When laying out the workspace, try to position motors away from applications such as grinding machines which product large quantities of harmful contamination.
Electric motors are the driving component of a vast range of applications across every industry, and regular inspection is essential to reduce the risk of premature failure. If you are in doubt about the condition of your motor, it is always advised to contact a specialist for further investigation.
At ACORN, we have a dedicated couplings and drives division who are on hand to provide you with expert advise and guidance when you need it the most. Contact our knowledgeable couplings and drive division to discover how they could help you to improve the efficiency and reliability of your electric motor.