Straight forward linear for the medical industry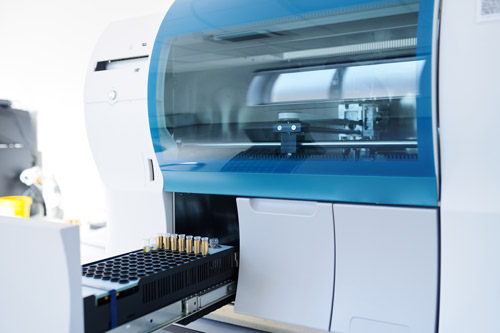 When it comes to medical and laboratory automation equipment, the need for smooth running quality and low noise levels are required.
Strict legislation means that there is no space for error in this industry. For this reason, all components must be of the highest quality, with exceptional levels of accuracy to match.
NSK has launched its new line of VSP-X ball screws to deliver outstanding accuracy and precision where it's needed the most. The innovative process used to manufacture NSK VSP-X ball screws provides greater accuracy than ever before, whilst maintaining the superior running quality for which NSK ball screws are renowned.
VSP-X ball screws allow for flexibility within the application, whilst promoting efficiency in production. They are ideal for low torque applications, especially where low volume operation is a priority. With excellent repeatability and high positioning accuracy, NSK VSP-X ball screws provide the perfect solution for applications demanding the highest levels of accuracy.
NSK's line of VSP-X ball screws are interchangeable with all major brands of ball screw, and ACORN's dedicated linear division are on hand to assist you with finding the right option for your application.
At ACORN, we can offer same day availability on a range of stock cut lengths, as well as short lead times on the full VSP-X ball screw range. Our commitment to our customers doesn't end there: we can even hold your stock requirements, meaning that you can get back up and running faster than ever before.
Contact our Linear experts today to find the right NSK VSP-X ball screw for your application.