5 reasons to choose RHP Self-Lube bearing units for your packaging application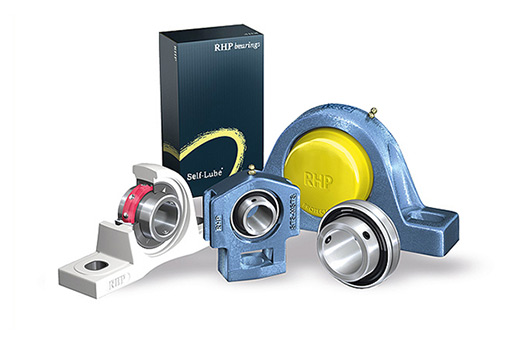 With a maze of conveyors carrying produce in every direction, the packaging industry is fast-moving, with little tolerance for downtime. Components need to be reliable, as well as being easy to fit and having lengthy maintenance intervals.
RHP Self-Lube bearing units are often the bearing unit of choice in this industry, thanks to their versatility, along with their economical two-part design. Commonly found as take up units in conveyors, these bearing units offer huge benefits to the packaging industry.
We asked our bearings and maintenance product specialist Clive Simkins to talk us through his top 5 reasons to choose RHP Self-Lube bearing units.
1. Extend maintenance intervals
RHP Self-Lube bearing units are supplied greased, sealed and ready to mount. With excellent grease retention, relubrication intervals are given a substantial extension, with many applications requiring no further lubrication. There is an option for the grease nipple to be plugged in applications which do not require relubrication, to avoid the risk of over-greasing.
2. Effective sealing against contamination
These bearing units have a range of sealing options available, including single, flinger and triple lip seals, to provide optimum protection from contamination in even the harshest environments. End caps are also available for use on shaft ends.
3. Easy to fit
RHP Self-Lube bearing units are easy to fit: all you need is a spanner, an allen key and a screwdriver. With a range of different mounting options available including grub screws, eccentric collars and adapter sleeves, there is bound to be an option to suit every application.
4. Accommodating of misalignment
Capable of taking up moderate initial misalignment, RHP Self-Lube bearing units are able to compensate for mounting errors. This helps to prevent damage, as well as further simplifying the mounting process.
5. Versatile
With a wide range of housing types available (15 in total), RHP Self-Lube bearing units provide a range of options for light, medium and heavy-duty applications. A variety of housing materials are available, from cast iron to stainless steel, along with HLT grease for reliable operation in extreme temperatures.
If you need help choosing a bearing for your application, talk to our bearing product specialist, Clive Simkins