ACORN leads the way to helping keep tug boat fleet afloat
A breakdown in the marine industry can be costly, causing delayed sailing, late docking and off-hire time. This can have a dramatic impact on profitability, as well as causing hours or even days of unplanned downtime.
Our industry expert, Steve Hudson, has a wealth of experience in the marine industry. Steve recently attended two tug boats based off the Scottish coast to complete an in-situ inspection of their SKF Cooper bearings. The boats are part of a fleet of four which are primarily used to assist gas and oil tanker ships to berth, load up and unberth in the Shetland Islands.
The vessels were brought in to dry-dock for the planned maintenance, where it was discovered that Cooper split-to-the-shaft cylindrical roller bearings on one boat were reaching the end of their service lives and required replacement. As ACORN is an authorised distributor for SKF Cooper bearings, Steve was able to quickly source, supply and install the replacement bearings.
Whilst replacing the Cooper split roller bearings, Steve overheard the chief engineer mention to the skipper that the clearance on the port side fire pump drive coupling was 5mm. Through previous experience, Steve knew that the coupling element to hub clearance should not be more than 3mm, so he offered to take a look at the fire pump coupling whilst on-board and provide a condition report.
On inspection, it was found that the CentraFlex coupling elements had not only exceeded their maximum wear limit but had also begun to break apart. As a result of this, Steve was asked to proceed by inspecting all other couplings on board.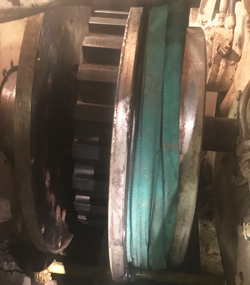 Through this inspection, it was also discovered that there was substantial damage to the coupling elements within the Altra Stromag PeriFlex disc couplings, which were being used to connect the diesel engine auxiliary output shaft to the gearbox drive. This drive is responsible for driving both the ship's hydraulic system and the emergency firefighting pump, making it a critical piece of machinery.
The damaged couplings had been running for a total of approximately 22,500 hours and had surpassed their maximum permissible wear level of 10mm by almost 20%. This had led to selected teeth of the elements cracking at the root, leaving the couplings in a compromised position.
Thanks to ACORN's close partnership with Altra Industrial Motion, Steve was able to source, order and install four new coupling elements from Stromag's warehouse in Germany within 5 days. This allowed the vessel to leave the dry-dock and resume its normal duty within the week, keeping downtime to a minimum.
The fleet superintendent decided that since the bearings and coupling elements on the first boat had been replaced, the same should be done for the other tug as a matter of course. He also asked Steve to return to carry out inspections of the two remaining tugs in the fleet next year.
ACORN is dedicated to helping businesses to avoid downtime and maximise profitability. If you need help sourcing a replacement component on a short lead time, contact your experienced local sales team today.
Acorn Industrial Services Ltd provides full service supply solutions on engineering components to an international customer base. Their impressive stockholding of over six million items is available from regional distribution centres throughout the UK.