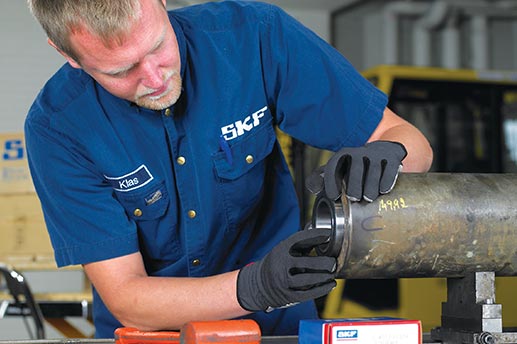 With around one in six premature bearing failures occurring as a result of poor fitting practices, it's easy to see why it's so important that bearings are fitted properly. But there are so many different ways to fit a bearing – how do you know which is right for your machinery?
In this article, we'll talk you through the different ways of fitting a bearing, as well as exploring the methods that you should be avoiding, helping you to get the most out of your machinery.
What tools do you need to fit a bearing?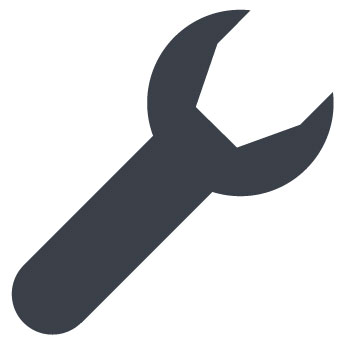 Before we take a look at the different methods of fitting a bearing, let's consider the tools you'll need to fit a bearing.
The tools that you'll need to fit a bearing will depend on the method that you choose. The two most common methods of mounting a bearing are mechanical and heat. If you plan to use mechanical methods of fitting a bearing, you'll need to invest in a bearing fitting toolkit. Alternatively, if you choose to mount your bearings using heat, you'll need to purchase or hire a bearing heater.
Whichever method you choose, you'll also need to ensure that you have the right PPE. Depending on the method that you choose, this may include heatproof gloves and safety glasses. This will help you to stay safe during the bearing fitting process.
Before fitting a bearing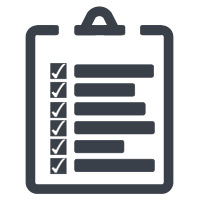 There are a few things you'll need to do before you begin fitting your bearing. This will help to ensure that the fitting process goes smoothly, as well as helping your bearing to achieve its maximum service life.
Firstly, you'll need to ensure that the replacement bearing has been stored correctly. This means keeping the bearing clean and dry, at an ambient temperature. It's also important that the storage conditions are free from any vibrations which could cause damage to the bearing.
You'll then need to take the time to carefully inspect both the shaft and housing, ensuring that they are clean and in good condition. If there are gouges, nicks or burrs on the shaft, it will need to be repaired. Emery paper is frequently used for this purpose, but it's important to note that loose particles from the paper can contaminate the bearing. For this reason, industrial Scotch-Brite pads are the preferred tool for removing any fretting or corrosion from the shaft.
It's also important to measure the shaft and housing using calibrated measuring tools to ensure that they are within the recommended dimensional tolerances. If they are not within these recommended tolerances, they will need to be replaced to avoid compromising the lifespan of the bearing.
Finally, it's critical that the replacement bearing is not unwrapped until you are ready to begin the installation. This will help to prevent contamination from entering the bearing, giving it the best possible chance of achieving its maximum service life.
Bearing fitting methods
There are three main methods of fitting a bearing. These are mechanical, heat and hydraulic. There is some overlap in terms of when you should use each method, so there isn't always one definitive answer as to which method is best for your situation.
The below sets out the criteria for which each mounting method is suitable:
Mechanical mounting
Bearing size: Small - Medium
Seat type: Cylindrical, tapered, adapter sleeve, withdrawal sleeve
Heat mounting
Bearing size: All sizes
Seat type: Cylindrical
Hydraulic mounting
Bearing size: All sizes
Seat type: Tapered, adapter sleeve, withdrawal sleeve
Fitting a bearing mechanically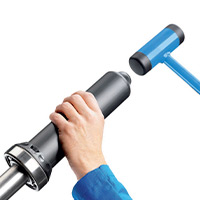 Mechanical mounting methods allow you to fit a bearing without using heat. This is also known as cold fitting. This method of mounting is most commonly used on small and medium size bearings with almost any type of seat.
The most popular mechanical fitting method is to attach an impact ring to the bearing, onto which a sleeve is placed. Force is then applied to the sleeve using a dead blow hammer, which transmits force through the impact ring and into the bearing. This slowly eases the bearing onto the shaft without damage.
Tools that may be used during mechanical bearing fitting include:
Impact ring
Impact sleeve
Dead blow hammer
SKF's TMFT 36 is a popular choice when it comes to bearing fitting toolkits, as it contains everything that you will need to mount bearings mechanically. This bearing fitting toolkit facilitates the safe and effective mounting of bearings ranging from 10mm – 55mm in bore diameter on shaft, housing and blind applications.
Fitting a bearing with heat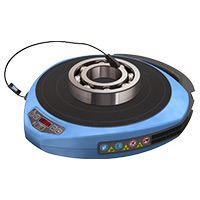 When heat is applied to a bearing, it will naturally expand. This means that the bore of the bearing will increase, allowing it to be easily slid into place on a shaft. For this reason, heat is one of the most popular fitting methods for all sizes of bearing.
There are many different ways of heating a bearing – some of which are safer and more effective than others. You may have heard of bearings being heated with a naked flame or an oil bath – these methods are best avoided at all costs due to the dangers involved and the damage that they can inflict on bearings.
Other types of bearing heaters include cones, heated plates and pizza ovens. Although these offer a significant improvement on naked flames and oil baths, they often result in uneven heating of the bearing which can lead to bearing damage. This can significantly shorten the lifespan of the bearing.
The most effective way to heat a bearing for mounting is to use a bearing induction heater. These provide a fast, safe and efficient method of heating almost any size of bearing. You'll need to choose a bearing heater that is suitable for the size of bearing that you need to heat.
If you regularly replace bearings, there are benefits to buying a bearing heater. However, if you rarely need to fit a bearing, it could be more beneficial to hire a bearing heater. This means that you can choose the perfect bearing heater for your needs, hiring it for exactly as long as you need it.
Fitting a bearing with hydraulics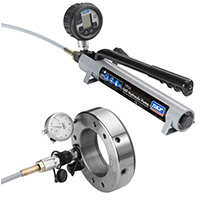 There are two different types of hydraulic fitting methods: the drive up method and the oil injection method. Hydraulic fitting methods are suitable for use in bearings with tapered shaft seats, as well as adapter and withdrawal sleeves.
In the drive up method, a hydraulic nut is positioned onto either a threaded section of the shaft or the thread of the sleeve, resting against the inner ring of the bearing. Oil is then pumped into the hydraulic nut using a hydraulic pump, to drive it up the shaft. This in turn pushes the bearing along the shaft until it reaches the desired position.
In the oil injection method, a thin film of oil is injected through ducts and distribution grooves between the bearing and its seat. This works to virtually eliminate the friction between them, reducing the pulling forces required by up to 90%. This enables the bearing to slide smoothly onto the shaft.
In summary
There are three main methods of fitting a bearing: mechanically, with heat or hydraulically. The method that you choose will depend on the size and type of bearing that you are mounting, as well as the location and accessibility of the bearing.
If you need advice on selecting the best way to fit a bearing, our bearing and maintenance product experts are on hand to help. We have a wide range of SKF bearing fitting tools available from stock, from bearing fitting toolkits to hydraulic pumps, as well as a range of bearing heaters available to purchase or hire.
For more information about fitting a bearing, or specialist advice for your application, contact your local knowledgeable sales team today.