Industry 4.0: Are electromechanical linear actuators really the smart choice?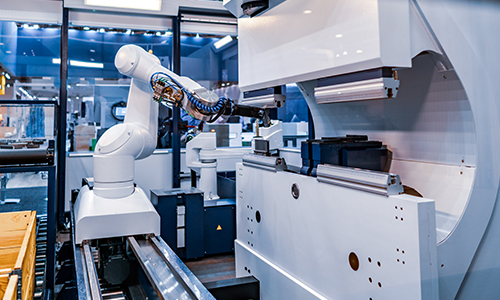 The world of manufacturing is moving at a record pace. In order to keep up, businesses need to develop smarter and more innovative ways of working to ensure continued productivity and growth. This is where Industry 4.0 comes in.
Industry 4.0, also known as the fourth industrial revolution, is changing the way that manufacturing businesses operate. Implementing digital technology into every phase of the manufacturing process allows production to be streamlined, maximising productivity, profitability and efficiency.
Maximising automation means that businesses can reduce their operating costs whilst increasing their profit margins. Productivity and quality are improved whilst employee safety is enhanced.
Choosing the right technology means that the benefits can continue to grow. More of the business' applications and processes can be integrated into the industry 4.0 network over time, streamlining processes even further and increasing the value to the business.
One of the most fundamental parts of manufacturing automation is often linear motion. There are many ways to provide linear motion, with electromechanical linear actuators often assumed to be the default industry 4.0 solution. But are linear actuators really the smart choice for businesses looking to automate their processes?
Let's take a look at the top five reasons to choose an electromechanical linear actuator when you decide to move towards automating your manufacturing processes.
Simple design
The alternatives to an electromechanical linear actuator are generally considered to be pneumatic and hydraulic systems. However, these systems are highly complex, with many parts to set up and monitor.
Pneumatic systems require many components including hoses, valves and pumps, whilst hydraulic systems rely on a fluid reservoir, pumps, motors, heat exchangers and release valves. All of these system elements must be set up carefully and monitored regularly to reduce the risk of component failure.
Electromechanical linear actuators have a much more minimalistic setup, with just a few wires required to transmit power, along with the control system. This allows the actuator to have a much smaller overall footprint, along with keeping the design and installation time to a minimum.
Easy integration
Electromechanical linear actuators are surprisingly simple to integrate into your manufacturing application. With fewer components to consider, they are ideal for adding additional axes into tight spaces.
The control systems used alongside electromechanical linear actuators are also easy to integrate, with simple interfaces to all of the major network protocols.
Improved efficiency
With outstanding levels of energy efficiency, electromechanical linear actuators are often chosen by sustainable companies who are looking to reduce their environmental impact. Not only do these components improve sustainability, they also deliver fantastic cost savings when it comes to energy usage.
With around 80% energy efficiency, electromechanical linear actuators deliver around twice the levels of efficiency of a hydraulic system and over ten times the efficiency of a compressed air installation.
Reduced total cost of ownership
Every engineer wants the best for their machinery, but there's no denying that cost is also a major factor in the decision-making process. Choosing an electromechanical linear actuator for your linear motion application can deliver significant cost savings over the full lifecycle of an automation system.
Although electromechanical linear actuators contain high-precision components, these critical parts are well-protected from both damage during operation and contamination. This helps to ensure a long and predictable service life.
Heightened control
When using fluid power systems such as pneumatics or hydraulics, accurately controlling the speed and position of the actuator can be a challenge. In applications which rely on outstanding levels of precision, this can cause major issues.
Electromechanical linear actuators allow complete controllability of the system. This means that high levels of repeatability can be delivered, along with increased stiffness.
Electromechanical linear actuators: The smart choice
With new digital technologies constantly evolving, the world of manufacturing is becoming smarter, more responsive and increasingly flexible. However, the physical aspects of the machinery need to stand up to the brainpower of the machines. When it comes to linear motion, electromechanical linear actuators are the smart choice.
ACORN has a dedicated team of linear motion specialists who are available to assist with application design, as well as system replacement and improvement. Contact our linear team today for expert advice.