NADELLA Appoints ACORN® as Sole Master Distributor for Linear products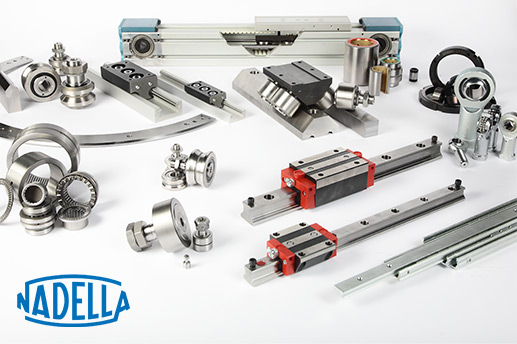 Acorn Industrial Services Ltd is delighted to announce our appointment as the UK's Sole Master Distributor for Nadella Linear products. ACORN® has been a key Distributor for Nadella for many years and this partnership has now been further strengthened, as part of Acorn's commitment to the brand and to providing their customers with even higher levels of service, product choice & availability, whatever the linear application may be.
With Brexit related issues causing delays and uncertainty in sourcing products from outside of the UK, there is a clear demand from customers for stock to be available within the UK for quick, reliable delivery. With this in mind, Acorn has committed to a very large stock of Nadella linear products which will be held at their Rotherham National Distribution Centre ready for dispatch within 24 hours of order. Acorn's stock includes a wide range of Nadella rails which can be cut on site to customer requirements, using specialist high quality equipment.
The UK market also has a strong demand from Special Purpose Machine builders and smaller OEMs for high quality linear products to be available for quick delivery. Many will be aware of the current global situation with product availability, whether caused by production delays, raw material shortages or shipping challenges. Acorn recognised these developments in early 2021 and has taken actions to ensure availability of their products remains as high as possible. Holding the right stock is a key part of that and this is a strategy to which Acorn is committed.
Nadella linear products are primarily based around rollers, rather than recirculating ball bearings. Recirculating bearing systems are very common in profile rail guide systems. Profile rail guide systems are now very common components in many machines and automation in general. However, they are not always the optimum solution for linear guidance.
In applications where there is a high degree of contamination, or other similar harsh environments, profile rail guide systems can be problematic. Contamination enters the recirculation system and commonly causes poor performance and even premature product failure. It is almost impossible to clean out this contamination once in the recirculation system. Whilst there are various seal options to help in mitigation, none of these are 100% effective in many applications. Nadella uses sealed rollers running primarily in 'open' rail guides. In this manner contamination cannot enter the rollers and can easily be cleaned from the rail guides. Stainless steel products and special surface treatments are also available, if demanded by the application.
Profile rail guide systems are also very demanding with regards to a suitable mounting surface and rail alignment. These requirements can be costly to implement, as a result of increased machining and installation time & difficulty. Nadella uses fixed rollers combined with floating rollers; in this way alignment tolerances are far greater than profile rail guide systems (e.g. typically 0.5-1.0mm, rather than 50 microns [50/1000th of a mm]). This can result in a considerable cost saving, as installation is quicker & much more straightforward.
Acorn's dedicated Linear Division has grown significantly since its inception in 2007, to now being the leading UK stocking Distributor of linear products.