New ContiTech Agricultural Belt Brings a Power Transmission Revolution to the Agri Industry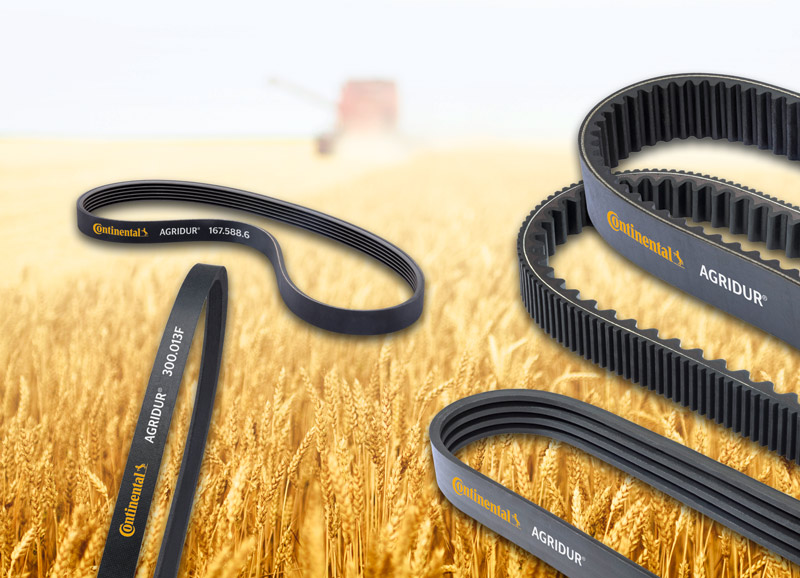 In October 2016, ContiTech will be launching their new Agricultural drive belt: AGRIDUR®.
The ARGIDUR drive belt has been specifically developed for use in the harsh conditions of the agricultural industry. Wet, dirty and arduous conditions call for products specifically suited to these conditions, and this is where the AGRIDUR belt excels. Designed to stand up to the dirt, dust and moisture which are normal conditions for the agricultural industry, as well as extreme weather conditions such as heat and cold, drought and rain, and direct sunlight, this belt is bringing a power transmission revolution to the agricultural industry.
AGRIDUR is available as a wrapped V-belt, a banded V-belt, a variable-speed belt and a multiple V-ribbed belt.
AGRIDUR wrapped V-belts have a low-stretch tension member, with an upgraded compound for high power transmission with heavy loads, as well as being able to operate in temperatures ranging from -30oC up to +80oC
AGRIDUR banded V-belts are ideal for drives with irregular load changes and sustained high-power transmission, and are especially smooth running. They are designed to operate in temperatures as low as -40oC, and as high as 80oC.
AGRIDUR variable-speed belts have been designed for variomatic and variator drives, and feature a low-stretch tension member and an upgraded compound. They are able to transmit high output both safely and reliably, which is a critical feature for the agricultural industry. This belt is also able to operate in temperatures from -30oC up to 90oC
AGRIDUR multiple V-ribbed belts have a low-stretch tension member, for high power transmission with the heaviest loads. It is a very smooth-running power transmission belt, which is also suitable for more compact drives, as well as reverse flexing and reverse idlers.
Key benefits of AGRIDUR include:
Excellent performance in harsh conditions
Tolerant of extreme weather conditions
Energy efficient
Low maintenance – no lubrication required
High reliability
Long service life
Strong power transmission under full load
Electrically conductive to ISO1813
ContiTech are renowned worldwide for their high quality power transmission products, with an extensive product range covering over 18,000 sizes and types of belt, to suit every industry.
Contact us today to find out more.