Reducing CO2 with Remanufacturing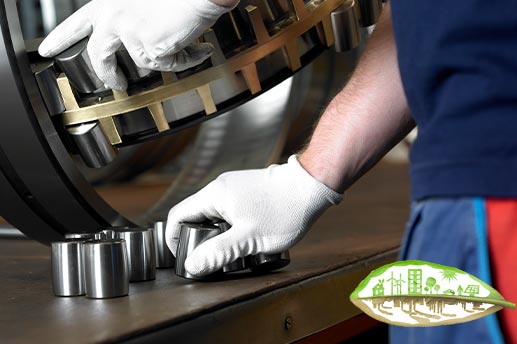 Every business is looking for ways to reduce its environmental impact and contribute to a sustainable future. Replacing your bearings requires high levels of energy, as well as being costly to the business. Bearing remanufacturing offers a cheaper and more environmentally sustainable option, helping your business to meet its sustainability targets.
In this article, we will explain what remanufacturing is, which types of bearings are suitable for this process and how it could benefit your business.
What is bearing remanufacturing?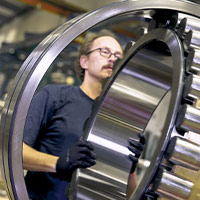 There are many different factors which contribute to the wear of bearings, from normal daily operation to environmental conditions such as contamination, debris and metal-to-metal contact in the rolling contact zone. This results in the service life of the bearing being cut short and will eventually lead to the premature failure of the bearing.
Remanufacturing enables the wear of a bearing to be countered before irreversible damage or bearing failure occurs. During the remanufacturing process, the individual components of the bearings will be repaired, with individual bearing components being replaced wherever necessary.
When should remanufacturing be done?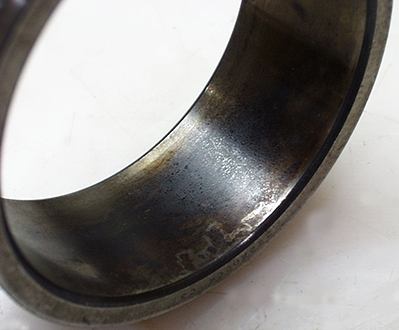 Bearing remanufacturing needs to be done before the point at which irreversible damage or bearing failure occurs.
In some applications, bearings are removed for inspection at regular intervals. During this process, early signs of wear may be detected which identify the bearing as a candidate for remanufacturing. But how do you know when a bearing needs to be remanufactured without removing it for inspection?
Condition monitoring of bearings is an effective way to identify when a bearing has obtained early damage, without needing to remove it from the machinery. This could include vibration monitoring, temperature monitoring and lubrication analysis to check for wear particles.
Detecting bearing damage at the earliest possible opportunity will enable remanufacturing to take place, avoiding catastrophic failure and the need to replace the bearing.
What types of bearings can be remanufactured?
Many different types of bearing are suitable for remanufacturing. However, it is usually most cost effective on larger and non-standard bearings which can be costly to replace.
Here are some of the types of bearings which are often suitable for remanufacturing.
Backing bearings
Designed for use in cold rolling mills, backing bearings are typically cylindrical roller bearings with an extra thick outer ring to reduce edge loading during operation.
During the remanufacturing process, these bearings are handled in batches per shaft, often as complete sets. When a backing bearing is remanufactured, its total radial cross section is regrinded to refresh the logarithmic profile. This helps to extend the bearing's service life further than the standard remanufacturing process, ideal for the challenging environment in which it operates.
Caster bearings
Caster bearings can take the form of spherical roller bearings, CARB toroidal roller bearings or cylindrical roller bearings, depending on the requirements of the application in which they are used.
After the standard remanufacturing process is completed, these bearings can often be improved, for example by adding a seal to the bearing or upgrading to an SKF ConRo unit. These options may further extend the life of caster bearings, reducing CO2 consumption and reducing the total cost of ownership for the business.
Large size bearings
Remanufacturing is often a cost-effective solution for large size bearings, which can be expensive to replace. Opting to remanufacture a large size bearing rather than replacing can lead to lower lifecycle costs and reduced downtime, along with supporting the company's efforts when it comes to sustainability.
Examples of large size bearings which may be suitable candidates for remanufacturing include:
Tapered roller bearings

Deep groove ball bearings

Spherical roller bearings

CARB toroidal roller bearings

Cylindrical roller bearings

Spherical roller thrust bearings
Slewing bearings
As slewing bearings are typically manufactured in very large diameters, they are often an ideal candidate for remanufacturing, and businesses can reduce their costs significantly by opting to do so. For businesses who are looking to meet their sustainability goals, remanufacturing slewing bearings is a great option.
Bearing housings
Replacing a bearing housing can be costly, but why replace a bearing housing if there's a way around it?
It's not just bearings that can be remanufactured: bearing housings can often be repaired or rebuilt, bringing them back to reliable operation quickly and cost effectively. This can help to keep your maintenance costs to a minimum whilst helping you to meet your sustainability targets.
Benefits of remanufacturing
There are many benefits of remanufacturing bearings, from the cost savings it brings to the environmental impact. Here are some of the benefits of remanufacturing your bearings.
1. Reduce CO2 consumption
When your bearings fail prematurely, CO2 is required for both the disposal of the old bearing and the manufacture of the replacement bearing. Remanufacturing a bearing before it reaches catastrophic failure can significantly reduce CO2 consumption, contributing towards your sustainability targets whilst helping to protect the environment.
2. Extend service life
Remanufacturing a bearing can significantly prolong its service life, helping you to avoid unnecessary downtime. After all, there's nothing more inconvenient than unplanned downtime as a result of a catastrophic bearing failure.
3. Reduce total cost of ownership
For large size and non-standard bearings, remanufacturing often offers significant cost savings when compared to replacing the damaged bearing. The aim of every business is to maximise profit, so the cost savings realised by remanufacturing your bearings will help you to reduce your total cost of ownership, maximise your profits and achieve your goals.
Make an impact with remanufacturing
If you're looking for new ways to reach your sustainability goals, remanufacturing your large size and non-standard bearings is a great option. Not only will it provide significant benefits to the environment by reducing CO2 consumption, but it can also help to reduce your total cost of ownership and your downtime.
For more information about remanufacturing, and to discover whether your bearings could be candidates for remanufacturing, talk to your local sales team today (opens new window).