A Team Effort to Produce a Team Player!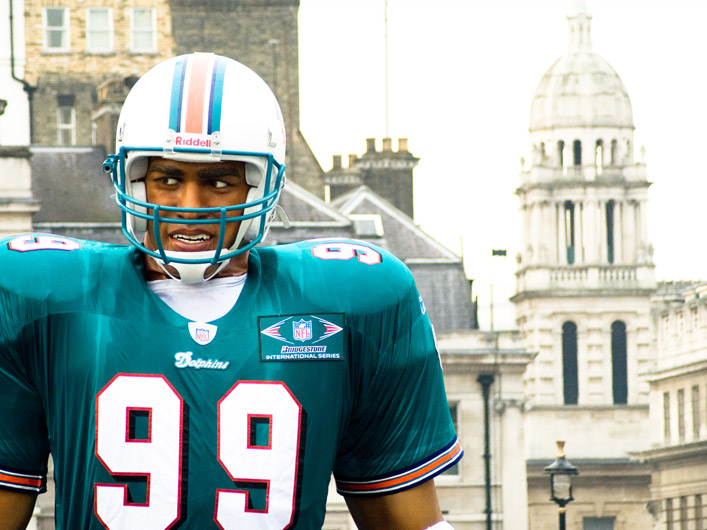 A formidable animatronic–the biggest structure of its kind ever built–has been created with the help of Acorn Industrial Services Ltd and their linear specialist Simon Gillingham.
The 26ft high animated replica of a famous American footballer is the creation of an award winning team at the London-based SFX company Artem.
This remarkable feat of engineering, a world first, was unveiled at a press release in Trafalgar Square just ten weeks after construction began.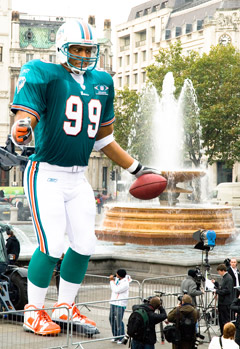 Weighing over a tonne, the animatronic's moving limbs posed a real problem for the designers. Originally hydraulics were considered, but the additional ancillary equipment needed to operate the system would have created additional concerns—another system needed to be found. Artem looked at using electric actuators, which offered a much simpler solution. Acorn Industrial Services Ltd, a leading supplier of linear motion systems, bearings, power transmission and mro products from Rotherham was approached and Simon Gillingham of Acorn Industrail Services Ltd (Linear Division) was asked if he could help Artem by providing a solution. Simon had to specify an actuator which would be powerful enough to move the giant's massive limbs and which could effectively mimic human movement in terms of speed and smoothness. A joint meeting was held with Artem's design team, SKF Linear Motion and Acorn Industrial Services Ltd and all concerns were identified and a solution proposed.
A linear actuator from the extensive range offered by SKF provided the performance and dimensions required for the animated man. The huge replica needed over fifteen actuators for it to move its giant head, arms, legs and feet in a life-like motion.
A key factor in the supply of the actuators was the lead time. The animatronic had to be ready prior to the game between Miami Dolphins & the New York Giants at the Wembley stadium, so delivery was critical. The actuators were needed within two weeks of ordering. Acorn's reputation for service is second to none and Simon Gillingham played an important role in ensuring the goods arrived without a hitch. By working closely with SKF in Sweden & the UK, Simon tracked the actuators every step of the way making sure everything went smoothly and that the delivery was made on time and the specification correct.