About Linear Guides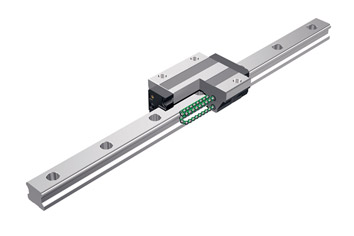 Profile rail linear guides utilise recirculating ball bearings (or rollers) within a raceway formed on one side from the rail profile and the other within the carriage.
Linear guides offer high load capacities combined with smooth and accurate movement.
Linear guides are the bed rock of many automated processes and machines. They are available from size 15 all the way up to size 150.
Profile rail linear guides were developed by THK in the 1970s and THK remains the world's leading manufacturer of linear guides, ball screws and ball splines.
THK HSR, SR, SHS, SSR, HRW, SHW and GSR types are all available from stock, up to size 35. We also stock a vast range of different carriages, including pre-loaded variants.
EWELLIX offers the LLT range of linear guides and we also hold these rails and carriages in stock.
At Acorn, we provide a range of Linear Guides that offer a solution for the vast majority of Linear Guide applications - so if you're looking for linear guides from leading manufacturers such as THK, you've come to the right place. Take a look to find out just what we've got to offer.