Everything you need to know about shaft collars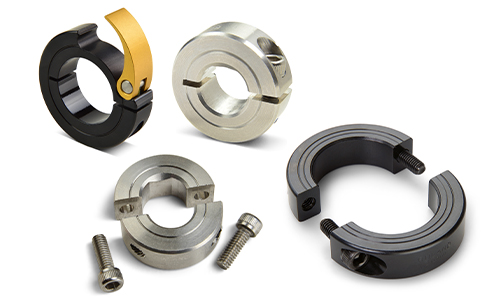 Shaft collars are one of the simplest mechanical components. However, they are also one of the most essential, found in almost every type of machinery, across every industry. Despite their simple design, shaft collars can sometimes appear complex, with many people not fully realising the critical role that they play and the options available.
We've put together a comprehensive guide about shaft collars, to give you all of the information you need to become shaft collar savvy.
What is a shaft collar?
A shaft collar, sometimes known as a locking collar or shaft clamp, is a ring-shaped metal or plastic component which fits onto a shaft. It is mounted to the shaft using either clamping forces or a set screw, with the mounting mechanism depending on the type of shaft collar.
Shaft collars can be found in almost every type of machinery. With a variety of different uses, shaft collars can often be found securing bearings and sprockets on a shaft, locating components within motor and gearbox assemblies, or acting as mechanical stops.
Most shaft collars are easy to install and remove, as well as having minimal maintenance requirements. Many different types and brands of shaft collar are available, with options to suit virtually any application requirement.
What are shaft collars used for?
Shaft collars are versatile components with a range of uses, lending themselves to almost any application across every industry. From positioning devices on medical analysis equipment to securing industrial railings, shaft collars can be found almost everywhere.
The main function of a shaft collar is to position components such as bearings, pulleys, sprockets and sensors, holding them securely in place. With high levels of holding power, shaft collars are ideally designed to precisely locate machine components on the shaft. They are also commonly found within motors and gearboxes, providing appropriate positioning of components for accurate and reliable power transmission.
Shaft collars can also be used as spacers. Thanks to their locating abilities, shaft collars are often used to keep components appropriately spaced on the shaft. They are also frequently used as mechanical stops, limiting the movement of a shaft in reciprocating applications. This includes actuators and cylinders in vehicles and other heavy machinery.
The range of industries in which shaft collars are used is endless. Wherever there is a shaft, there is likely to be a shaft collar. This includes automotive, medical, packaging, food and beverage, material handling and metals industries.
What types of shaft collar are available?
There are several different designs of shaft collar available, to suit any application. Most shaft collars fall into the categories of either set screw shaft collars or clamping-style shaft collars, depending on the mounting mechanism used.
Set screw shaft collars
Set screw shaft collars were the first type of shaft collars which were mass produced, originally designed for use on line shafting in early manufacturing mills.
The originally design had some safety issues, with the protruding screws regularly catching on workers' clothing and pulling them into the machinery. Thankfully these early set screw shaft collars continued to be developed until the design was made safe, and the new design became industry standard.
Set screw shaft collars are mounted to the shaft with screws which are bored directly into the shaft. For this reason, set screw shaft collars are most effective when they are used on a shaft which is made from a material which is softer than the set screw.
These shaft collars are often chosen for their impressive holding power and high torque capacity, making them ideal for applications which are subject to shock loads. However, as they are screwed into the shaft, they are difficult to adjust and cause damage to the shaft.
Clamping-style shaft collars
Clamping-style shaft collars were designed to overcome the issues associated with set screw shaft collars. Rather than needing to be screwed into the shaft, these shaft collars are mounted using compression, clamping down onto the shaft to lock in place.
The key benefits of clamping-style shaft collars are the ease of fitting, as well as preventing damage to the shaft. They also showcase outstanding holding power, thanks to the uniform distribution of force on the shaft. However, despite their impressive holding power, shock loads can sometimes cause clamping-style shaft collars to slip slightly.
Clamping-style shaft collars are available in one-piece, two-piece and quick clamping styles. One-piece shaft collars wrap around the shaft for an even distribution of clamping forces. Only one screw is required for mounting and they can be easily adjusted and repositioned as required.
Two-piece shaft collars offer additional versatility and convenience, thanks to their innovative two-part design. This means that these shaft collars can be installed without removing other components from the shaft, saving time and effort. With two screws, this type of shaft collar offers an improved clamping force and impressive holding power.
Quick clamping shaft collars are a variation of the one-piece shaft collar which make adjustment quick and easy. These shaft collars have either a cam leaver or clamping leaver which allows for adjustments to be quickly made, without the need for tools. Quick clamping shaft collars are ideal for use in applications which require frequent adjustments or setup changes, such as printing and packaging machinery.
How to choose the right shaft collar
There are many factors which need to be considered when you're specifying a shaft collar for your application. These include holding power, operating conditions, installation mechanism and material.
The key performance factor that designers usually look for in a shaft collar is its holding power. In a set screw shaft collar, the holding power is dependent on the material of the shaft, as this impacts how far the screw is able to impinge into the shaft. In a clamp style shaft collar, the bore size and concentricity are far more significant in calculating the holding power of the shaft collar.
The holding power of a shaft collar can be further increased by opting for a black oxide surface treatment. This enhances the collar's holding ability thanks to its anti-stick properties whilst helping to maintain the torque rating.
If you're looking for a shaft collar which is resistant to corrosion, you may choose to opt for zinc plating. This provides an excellent resistance to corrosion, making it ideal for use in wet and contaminated environments. However, zinc plating reduces the holding power of the shaft collar.
The material that both the shaft collar and the screws are made from will also impact on the performance of the collar. Aluminium is a popular choice, resulting in a lightweight shaft collar with good holding power. If you're looking for the highest levels of holding power, steel may be the right option. For increased corrosion resistance, stainless steel is typically the material of choice.
It's important to ensure that both the shaft collar and the screws are suited to the operating environment. All too often, designers specify the perfect shaft collar for an application, forgetting the screws. Whilst the shaft collar will be able to withstand the harsh environment, the screw will not, leading to reduced performance and premature failure.
Although the majority of shaft collars are manufactured from aluminium, steel or stainless steel, there are also some materials available which are less common. Plastic shaft collars are lightweight and low in price, but have a much lower holding power. Titanium shaft collars have a very high cost but do not outgas, making them perfectly suited to cleanroom environments.
Choosing the right shaft collar is an important part of the application design process. Choose the wrong shaft collar and your performance will be compromised, potentially leading to premature failure and machine breakdown.
If you're unsure when it comes to selecting the right shaft collar for your application, it's always best to consult a specialist. After all, they're the experts.
Where to buy shaft collars
There are many companies that sell shaft collars, both in person and online. However, it's important to ensure that you're purchasing genuine components from a reputable manufacturer, as counterfeit components are responsible for thousands of premature failures and machine breakdowns each year.
At ACORN, we supply the Ruland range of shaft collars. We handpick our manufacturers to ensure that we supply only the highest quality machine components to our customers. That's why, when you buy from ACORN, you can be sure that you're receiving genuine components for optimum performance.
We have experts on hand who can help you to specify the right shaft collar for your application requirements. Our experts will take the time to get to know your business to ensure that you select the perfect shaft collar for your machinery.
Contact our specialist couplings division today for no-obligation advice and support.