ACORN® Insight
Keep up-to-date on the latest product and company news, along with useful information for the maintenance, repair and overhaul industry.
Our insight tagged with 'bearing pullers'
In this article, we'll talk you through the different methods available for bearing removal, as well as giving you some top tips for removing a bearing, helping to extend the life of your machinery.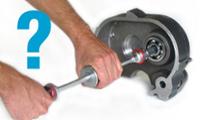 Choosing the right bearing puller for dismounting your bearings is critical. The safety and ease of removing the bearing will depend on the correct bearing puller being selected.